What is frugal? Frugal is thrifty, economical, saving. Buying the things you want at a price you want to pay.
Amazon.com has $200 books listed under $5. Shipping is free on most with a $25 order. (Click the Books Under $5 link).
Thanks, Wisebread
Limited time order your 2011 Entertainment Book and receive a $25.00 Restaurant Certificate free. Dine-Shop-travel and save every time. Certificate good at over 4000 restaurants in the USA. Shipping and handling is free with this deal. HURRY!
Today's Offer: Get a FREE $25 Restaurant Certificate and Free Shipping When You Order The New 2011 Book!
2011 Entertainment
®

Book - SAVE BIG with our restaurant coupons, plus discounts on shopping, attractions, travel and much more!
For nearly 50 years, Entertainment has been helping people save in tough economic times with the big Entertainment coupon book. Today, more than ever, people realize that the premium 50% off and 2-for-1 coupons found in the book help them save on everyday essentials right in their neighborhood including:
Dining
Shopping
Movie Tickets
Groceries
Services
Travel
Attractions
Car Care
Home Furnishings
Plus, with each book purchase you get online access to hundreds of additional local printable coupons and incredible online shopping discounts not found in the book.

LIMITED TIME ONLY!
Buy the Entertainment® book today and receive a
FREE $25 Restaurant Certificate
, good at over 14,000 restaurants throughout the U.S.!

Plus, FREE shipping on the book!

Go to www.seriouslyfreestuff.com and see all the free stuff on their site. Sign up for free and gettheir Newsletter. They post free stuff notifications daily
Receive a free Aussie-Tizer from My Outback Rewards and you can enter for a chance to win a trip to Australia and see Tim McGraw perform live.
The Force be with you: Here is a frugal deal for Star Wars Fans
Save 40% on the ultimate Star Wars collectable.
With the push of a button, the doors of the vault open in a wash of light and Star Wars sound effects. The inner platform rises, revealing this exclusive edition of The Jedi Path.
Amazon.com has it listed for $59.99 (Regularly $99.99). Shipping is free. Amazon prices are subject to change without notice. It probably won't be available at this price very long.
Thanks, Wisebread
Join the Pancake Revolution and receive a free meal at IHOP. You will also receive exclusive offers for your favorite IHOP and a free meal on your birthday.
Free food! Yippie!
Thanks, Seriously free stuff
Still a little unsure how to get great Savings at Walgreens, CVS and Rite Aid, my friend at Keeping the kingdomfirst.com post a challenge for these stores each week. She walks you through a shpooing experience using $5.00 and teaches you what you need ro know. Visit keepingthekingdomfirst.com and learn to use your ECB's and RR and get stuff for free every week.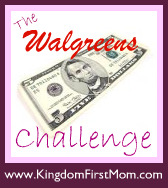 Welcome, my fellow Walgreens fans!

It's Sunday, time for our weekly Walgreens $5 Challenge. The place to come for simple scenarios with step-by-step instructions.

It is another week of freebies at Wags, so grab your weekly Walgreens ad, a printer, and some scissors to get started.

If you are new to shopping at Walgreens, and wanting to learn the basics, check out

this post

. New to couponing? Learn the

lingo here

.

If you are a first time visitor, here's the lowdown:

Join me each week as I host

The Walgreens $5 Challenge!
Seasoned WAGS shoppers:

share your best scenario(s) for the upcoming week at Walgreens.

Your budget: $5.00 out-of-pocket cash. Your mission:

to grow that $5.00 into more

Register Rewards (RR)

to use in upcoming weeks.

Want to participate?

Start by reading the

rules here

.

*********************************

Here is MY

$5 Scenario

f

or the week of October 3rd:
*coupons in red (scenarios never include tax as this will vary by region)

Transaction #1

Buy 1

Crest Toothpaste

@ $1.99

$1.00/1 Crest or Pro Health for Me Toothpaste (PG insert 09/26/10)

Total After Coupon = $0.99

RRs Earned= $1.00

Transaction #2

Buy 1

EOS Lip Balm .25 oz.

@ $3.00

Pay with $1.00 RR from above

Total After RRs= $2.00

RRs Earned= $3.00

Transaction #3

Buy 1

Schick Hydro Razor

@ $7.99

Buy 1

Nestle Candy (1.2-2.1 oz.)

@ $0.29

$4.00/1 Schick Hydro Razor (SS insert 10/03/10)
Pay with $3.00 RR from above Total After Coupon & RRs= $1.28

RRs Earned= $4.00

Grand Total OOP=$4.27 Total Value

=

$13.27

with $4.00 Register Rewards remaining!

Keep rolling those RR's for more savings!
Visit all of these sites this week for great savings.
As always,
"Let's save some money"
Jean